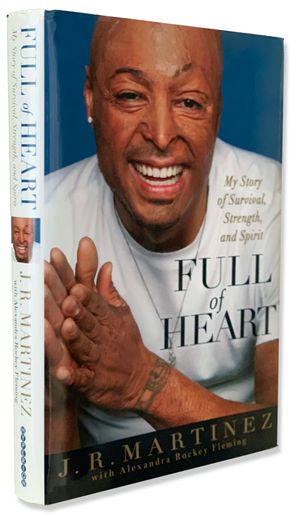 Full of Heart: My Story of Survival, Strength and Spirit
In 2003, nineteen-year-old Private J.R. Martinez was on a routine patrol when the Humvee he was driving hit an antitank mine in Iraq, resulting in severe injuries and burns on his face and more than one-third of his body. Out of that tragedy came an improbable journey of inspiration, motivation, and dreams come true. In Full of Heart, Martinez shares his story in intimate detail, from his upbringing in the American South and his time in the Army to his recovery and the indomitable spirit that has made him an inspiration to countless fans.
Currently OUT OF STOCK!
If you'd like to be alerted when my book is available to order subscribe to my email list!
What My Readers Have To Say...
★★★★★ An inspiration to us all
"J.R. Martinez's book is an inspiration to us all. I am a disabled Vietnam Veteran and he inspires me. My own disability is from Agent Orange. The cancers, migraines, diabetes, ED, tinnitus, muscular issues I have, do not hold a candle to what he has overcome. I have seen how other veterans have let their service connected afflictions rule and diminish their quality of lives. I only wish they would read his story; it certainly will change their lives as well. J.R.; you are a Champion of your Spirit! I am so glad you are sharing it with the rest of us."
★★★★★ Genuine, down-to-earth, very readable true story of a war veteran's decision to survive.
"I would highly recommend this book to any service member, especially those who have sustained serious injuries, and their family members. It takes courage and true grit to write such an honest account of one's wartime experiences. To some returning combat veterans the ONLY individuals who are able to get through to them that their life is still worth living despite their disabilities IS another such disabled combat veteran. J.R. Martinez proves to us that a physical disability need not become a permanent emotional or mental disability. There is hope. There ARE people out there who care..."
★★★★★ Thoroughly enjoyed this book
"Well written and personable. After reading this book, I felt that I had made a new friend in J.R. Martinez. He speaks as someone who lives next door. I was quite impressed at his determination to fight for his life as well as the love he felt for his mother. He is truly an inspiration to all who read his book. I decided to purchase the book after I viewed him on the Dr. Oz show. Previously I had watched and admired him on the Dancing With the Stars TV show and was curious as to how he was able to overcome such difficult obstacles. After reading his book, I understand now that he is real, and deserving of all the best things that are sure to come his way. I also would like to thank him for his amazing service to our country as a member of the military. I would recommend this book highly to anyone who has a love of reading true stories of heroes. I'm sure your heart will be touched by J.R. Martinez as was mine."
Stay in touch
Sign up for J.R.'s newsletter to stay informed about updates, speaking events, giveaways and other big news!
let's socialize
Follow J.R. on social media to stay in the loop on upcoming events, merch and more!